Buying a new construction home has many benefits, and in today's market, there are more reasons than ever to go for new construction. Once you've decided to have a house built, a number of key steps need to be taken to ensure a happy ending to your new home buying journey.
1. Determine How Much You Can Afford
You'll save yourself a lot of time and much disappointment by determining your budget from the start. Be realistic about how much you can afford to spend on a new house and maintain your desired lifestyle once you move in. Remember the real cost of your new home will include not only the purchase price and closing costs but also additional one-time expenses such as landscaping, new furniture and window coverings, and ongoing monthly costs such as home insurance, taxes, mortgage insurance premiums if your down payment is below 20%, and HOA fees. Try to make an accurate estimate of the total costs of your new homeownership and ask yourself if you are comfortable with the number.
2. Do Your Research
To be sure your dream home turns out to be everything you want it to be, you should conduct a significant amount of research before you are ready to sign the contract.
Narrow Down the Neighborhood
Needless to say, where you'll live is a major consideration. We all have our priorities and expectations for the neighborhood we are going to settle in for a certain stage of our lives, or maybe forever. For some, amenities may be of great importance; for others the quality of schools is paramount; for some others, it may be proximity to shopping, activities and transportation; and for some the main consideration may be living close to family and friends. Unless you plan to buy close to your current home and already know the neighborhood very well, you should invest some time in exploring your desired neighborhood(s).
Do online research, drive and walk around the neighborhood and perhaps talk to people who live there to make sure you'll feel at home after you move. Many neighborhoods have social media groups. See if you can join them and hear from the people who already live in the community.
K. Hovnanian builds new homes in 15 states across a variety of neighborhoods. Visit our communities in your state.
Choose Your Home Builder
Choosing the right builder can make the difference between being a happy and a miserable homeowner. You want to make sure you choose a company with a proven track record of success, financial strength, solid reputation and experience so you can rest assured they'll do the job well and stand behind it in case any problems develop.
Start with online research. Visit multiple builders' websites, read information about the company, their experience and values, and explore their offerings. Do they have home designs that appeal to you and are priced within your budget? Contact their call center for additional details. Are they easy to get hold of? Are they knowledgeable and responsive? Check out what people say about these home builders on social media and on review sites like NewHomeSource TrustBuilder.
Once you've narrowed down your list, schedule appointments at sales offices. When you meet with the builder's sales representative, ask all the questions you have. Do they offer the options that are important to you? How long will it take to have your home built, and do they have any quick move-in homes? What are the specifics of the new home warranty?
3. Get Pre-Approved for Financing
Unless you are paying cash for the build of your new home, you'll want to get pre-approved for financing early on in the process, preferably before you start visiting home builders' sales offices. Many home builders offer financing through their mortgage subsidiaries or affiliated companies, which can offer substantial benefits to home buyers. K. Hovnanian American Mortgage, LLC, for example, offers a variety of new home financing options exclusively for K. Hovnanian home buyers.
4. Select Your Options and Upgrades
You've done your research and exploration, found the ideal home and signed the contract. But you still have work to do. Luckily, this is the fun part.
Selecting options and upgrades is a very important step in making sure you are happy in your new home. The home builder will offer you several choices for the basics, such as the color of your kitchen and bath counters and cabinets. Additional options will be available at an extra cost, such as a designer paint scheme, upgraded kitchen countertops and appliances, bath fixtures and finish options and upgraded flooring. In some instances, you'll also be able to select structural options, such as adding a fireplace, an extra bath or additional garage bay.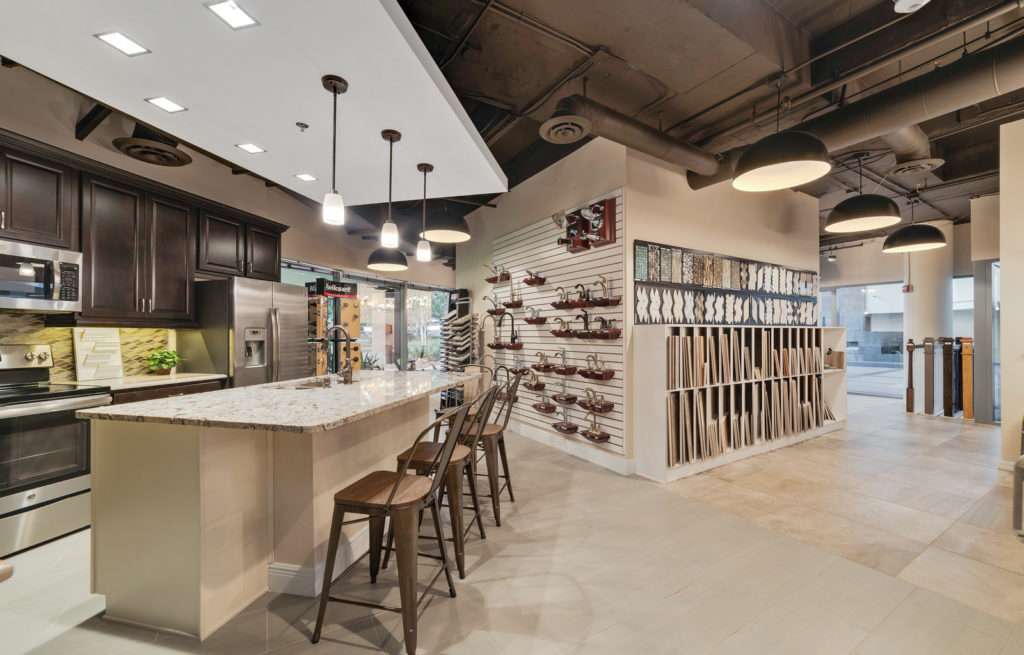 Most home buyers will want a home that shows a little bit of their personality, and while making selections at the design center you may feel like a kid in a candy store. Don't get too carried away, however, and make sure that the upgrades you select still allow you to stay within your budget. If you are selecting any structural upgrades, it's particularly important that you select them before the construction of your home begins.
At K. Hovnanian, we schedule an options selection meeting with new home buyers a few days after the contract is signed to make sure there are no delays in your home's construction, and our experienced designers will guide you through the process.
5. Lock in Your Financing
Shortly after you've signed the contract, you will need to finalize your new home financing. Prepare ahead of time by gathering a variety of financial records needed for getting approved for a new home loan. Any lender will need to see documentation of your income, employment, two years of IRS filings if you are self-employed, bank accounts, 401(K) funds and other assets. Your loan officer will provide a complete list of the documents needed.
Many major builders have wholly owned mortgage subsidiaries as well as affiliated title insurance and settlement services. This can streamline the financing process and reduce the time needed to proceed from application through settlement. The builder may also offer incentives contingent on using their preferred finance company. Builders' financing packages may offer significant benefits and you should carefully consider them, but it always helps to shop around and get offers from outside lenders to make sure you've made the right choice.
At K. Hovnanian, we offer financing through K. Hovnanian American Mortgage, LLC (KHAM). While you are under no obligation to finance through KHAM, there are many advantages to it, and 90% of our homebuyers choose to do so. As part of the same company, KHAM can offer increased efficiency and a smoother, faster financing process, while being extremely competitive with our rates. KHAM does not do resale home loans, refinancing or home equity loans, but focuses exclusively on serving K. Hovnanian new home buyers. According to Dan Klinger, President of KHAM, "We can do everything other companies do, but they can't do everything we can do." Visit KHAM's website to learn more.
6. Stay Involved During the Construction Process
During the construction process, you'll have opportunities to see your new home take shape. Once the frame goes up, it's time to have the frame meeting. You will meet with construction representatives at your future home, who will walk you through the structural options you have chosen. It's important that you ask questions and verify that everything is correct before the walls go up.
Once construction is complete, a final inspection will be conducted by a local building official. Upon passing, you'll receive a certificate of occupancy, which gives you the green light to move in
7. Final Walk Through and Punch List
As the closing day approaches, you will do the final walk through of your new house. You will be given the rundown of all of the systems and features of your brand-new home and have the opportunity to inspect it for any minor defects that need correction prior to your moving date.
8. Close on Your New Home
Finally, the closing = day is here and you are ready to take possession of your new home. Bring your photo ID and cashier's check/wire confirmations to closing. Your new home is now officially yours!
To ensure your moving day goes as smoothly as possible, remember to establish utility services at your new address, schedule appointments for cable/satellite and internet services and of course file a change of address with the postal service.
Are you looking to buy a new construction home? Consider one of K. Hovnanian's new communities located across the U.S., each with a range of thoughtful, stunning home designs. Find our communities in your state today!
Last Updated on April 28, 2022