In recent years, multigenerational living has become more and more popular. With so many benefits, like increased time spent with family, as well as greater affordability and convenience, it's easy to see why so many families are choosing Extra Suite for multigenerational living. Inviting generations of your family to live under one roof can bring you closer together, strengthen your relationships and make life easier all-around.
At K. Hovnanian® Homes, we know that nothing is more important than family. We've been creating beautiful designs and functional layouts for families for over 60 years. And now, with our new line of Extra Suite and Extra Suite+ home designs, we can offer privacy and space to meet your family's changing needs. Discover the home where you'll love living together.
What is the Extra Suite and Extra Suite+?
A new K. Hovnanian® home with an Extra Suite includes a private suite with its own spacious bedroom and bathroom.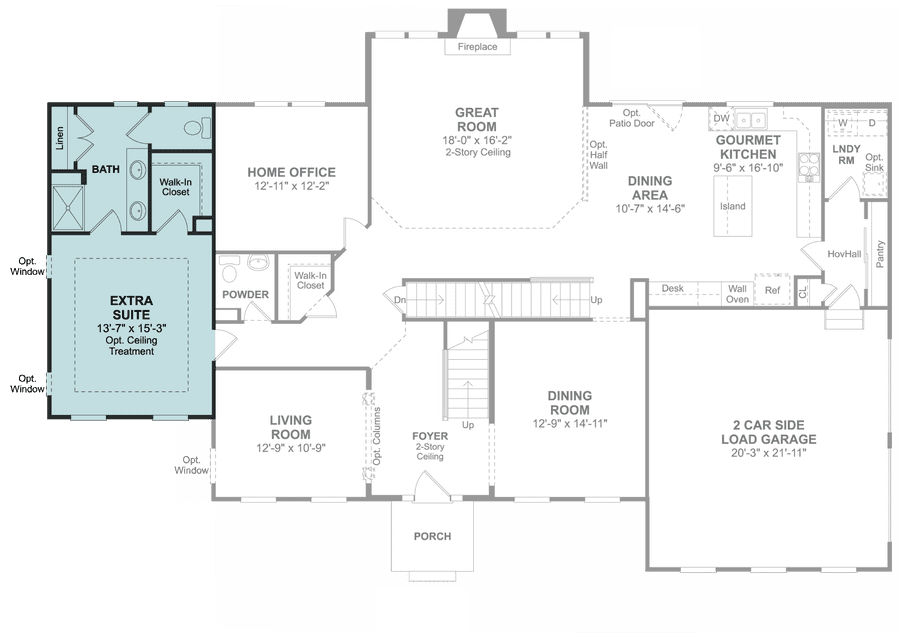 A new home with an Extra Suite+ includes a private suite that also offers a separate living area with a kitchenette and in many cases, a dedicated private entry.
Why Choose Extra Suite or Extra Suite+?
Whatever the reason you're considering multigenerational living, our Extra Suite and Extra Suite+ home designs offer functional layouts to meet your family's needs. Here are five common scenarios made easy with an Extra Suite floorplan:
Aging Parents Moving in with Their Children
Whether you're looking for an alternative to assisted living for your parents or extra help with childcare, an Extra Suite offers proximity to your loved ones, as well as privacy.
Adult Children Moving Back Home
With an Extra Suite, you'll have the perfect space to welcome your children home. Whether they're moving back home after college or looking to start fresh after a divorce, this is the perfect solution.
An Adult Child with Special Needs
Someone with special needs may always benefit from living with their parents. But as they grow, they'll value their independence. Extra Suite and Extra Suite+ offers the best of both worlds.
A Live-In Nanny or Au Pair
Having a childcare provider live with you gives you extra flexibility and convenience. Extra Suite makes for an ideal long-term arrangement.
Hosting Relatives for Extended Visits
When your parents and extended family don't live nearby, longer visits create an opportunity to make the most of your time together. Extra Suite offers a way to enjoy spending quality time with family, while still maintaining your normal routines.
Benefits of the K. Hovnanian® Extra Suite and Extra Suite+
Extra Suite and Extra Suite+ provide the perfect layout for multigenerational living by creating the perfect balance between independence and togetherness. This creates an environment for your family to not only live together, but also to thrive together. Here are the top six benefits of living in a multigenerational home:
1. Quality Family Time
Creating a space in your home for relatives to live or visit will bring your family closer together. Your children will get to spend quality time with their grandparents, look up to positive role models, and make memories that they'll cherish forever.
2. Privacy and Convenience
With the layouts of the Extra Suite and Extra Suite+, your family will get to enjoy the benefits of multigenerational living without sacrificing personal space. Having family next door is very convenient, but without the right layout, having too many heads under one roof can be stressful. (As well as noisy, which is why our Extra Suite plans all feature extra-insulated walls.) Our Extra Suite floor plans are designed so your family can enjoy quality family time together, while also maintaining privacy because everyone has their own space.
3. Family Safety
In a multigenerational living arrangement, younger adults can care for elderly family members. This alternative to assisted living might be a great fit for your family, because having elderly relatives nearby will help ensure their safety, plus they'll benefit from spending more quality time with their loved ones.
4. Childcare
With Extra Suite and Extra Suite+, you'll have space for live-in childcare, which will give your family extra flexibility and convenience. Whether your parents are watching your children while you're at work or you have a live-in nanny, these designs provide a great option to meet your family's needs.
5. Affordability
Multigenerational living can be more affordable than maintaining two households, because family members can share expenses and responsibilities. You can save money on childcare by having family members babysit. And Family members who can't afford to chip in on as many of the bills can make up for it by cooking meals, cleaning or doing yardwork. This also might be an affordable option for adult children who are moving home after college to save money, or a relative who is getting back on their feet after losing their job or getting a divorce.
6. Increased Home Value
With more and more families choosing multigenerational living, homes that have a functional layout, like an Extra Suite, are in high demand. This unique feature will add to the value to your home, especially as multigenerational living continues to grow. The added space, luxury and privacy will be very attractive to buyers if you decide to sell your home in the future.
Discover the home where you'll love living together — with enough space and privacy for everyone. Make your new home Extra Suite.
Last Updated on April 28, 2022