2021 Trends: Kitchen Designs & Layouts
Whether you are shopping for a new home or planning updates to your existing one, selecting the right kitchen design for your needs is an important decision. Your kitchen design will largely depend on the available space and overall layout of the home. However, your family's lifestyle and esthetic preferences also play a significant role.
In recent decades, open concept floor plans have become standard in American homes. With that design trend, the kitchen has become the focal point of the home and open kitchen layouts have become prevalent. Let's take a look at the most common kitchen designs and the types of homes for which they are best suited.
Types of Kitchen Layouts & Designs
One-Wall Kitchen Design & Layout
This type of kitchen design layout is most frequently found in apartments and smaller homes. It requires the least amount of space and is the most economical. Since one-wall kitchens are very compact, they minimize the amount of walking around the kitchen during meal preparation but are also typically short on storage space. A variation of the one-wall kitchen is a one-wall kitchen with an island, which solves the problem of limited storage space and also creates a visual separation between the kitchen and living area. Learn more about one-wall kitchen designs by clicking here.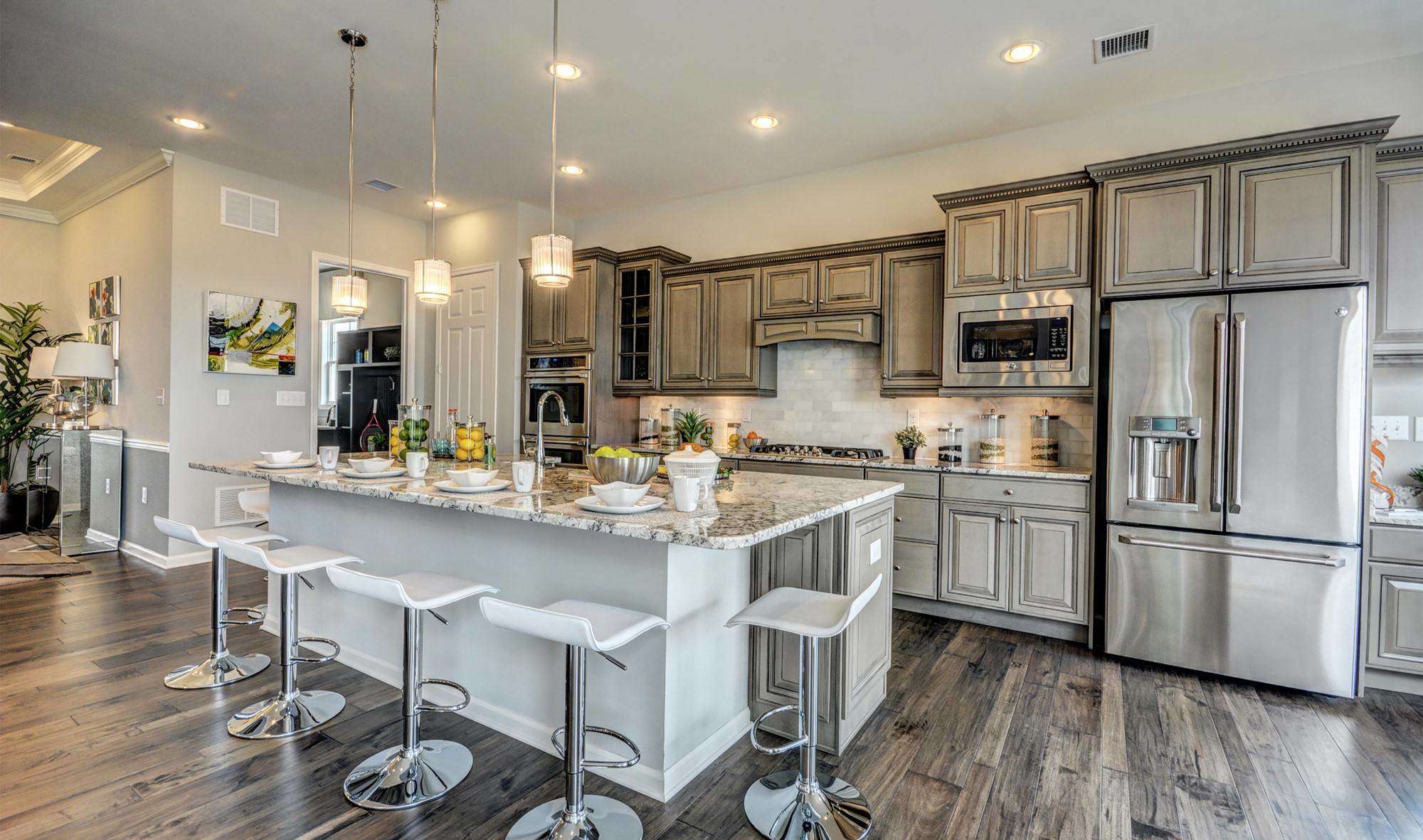 Peninsula Kitchen Design & Layout
While some sources use the term 'peninsula kitchen' to describe a G-shaped kitchen, there is an argument for separating it into its own category. Adding a peninsula does not require a G layout. Peninsula kitchen layouts are very common in apartments and smaller homes as an addition to a one-wall or L-shaped layout. A kitchen peninsula can be attached to a wall or adjacent countertop and has three accessible sides. It typically contains lower cabinets and/or drawers on the interior side and provides extra counter space for food prep and eating. Find out more about peninsula kitchen designs by clicking here.
L-Shaped Kitchen Design & Layout
This very popular kitchen design is appropriate for any size home. The kitchen is formed by two adjoining perpendicular walls, creating the ideal kitchen triangle – a clear, efficient path between food storage (refrigerator), cleaning (sink), and preparation (stove/oven). An L-shaped kitchen also presents a clean look, creates a feeling of openness, and provides adequate storage space. A center island added to an L-shaped kitchen creates the ideal kitchen layout, both for cooking and entertaining. Some homes with abundant kitchen space feature double L-shaped kitchens, which offer the advantage of plentiful storage and multiple prep areas, allowing more than one person to work in the kitchen without crowding. Discover more about L-shaped kitchen designs by clicking here.
Galley Kitchen Design & Layout
A galley kitchen is a long, narrow kitchen with cabinets, counters and appliances located on both sides of a central walkway. This kitchen design allows for very efficient use of space and minimizes the need to move around the kitchen. Because of their small size, galley kitchens are usually less expensive to build or remodel than other kitchen layouts. They are common where space is limited and are the most enclosed type of kitchen design, with the greatest separation from the rest of the home.
A galley kitchen will please the cook who prefers to keep messes hidden from view and likes to socialize once the meal has been prepared. A galley kitchen may be too tight to accommodate two cooks working at the same time. The galley kitchen layout is the only one that won't allow for the placement of a permanent center island. It is possible, however, to use a mobile island for more prep and storage space.
U-Shaped Kitchen Design & Layout
U-shaped kitchens utilize three adjacent walls and provide plenty of storage as well as multiple food prep areas. They keep appliances within close reach and usually do not require more than a few steps to get from one side to the other. If you have a large U-shaped kitchen, it's a good idea to add a center island to it to make it easier to reach all work areas. Click here to learn more about U-shaped kitchen designs.
G-Shaped Kitchen Design & Layout
G-shaped kitchens are formed by adding a peninsula to a U-shaped kitchen, providing more countertop space and creating a divide between the cooking and living spaces in an open floor plan. The peninsula with an overhang and bar stools on the outside creates a nice seating area for casual meals. A large G-shaped kitchen can also accommodate a center island for yet more counter and storage space.
Kitchen Designs & Layouts: Which is the best?
So what is the best kitchen design and layout? It's the one that works best for you. Each type of kitchen design has its advantages, and the decision on which is best for you will depend on a variety of considerations, including the available space, your budget, your family size and your lifestyle.
Do you enjoy cooking at home most of the time? You may want to consider an L-shaped or U-shaped kitchen design. If you entertain frequently, you'll want to add an island to your L-shaped or U-shaped kitchen or possibly elect a G-shaped kitchen. Do you have two or more chefs in the house, a larger U-shaped kitchen with an island may fit the bill or, space permitting, you may even consider two kitchen islands.
On the other hand, you have little time for cooking and prefer to eat out most of the time, a one-wall kitchen design may be the ideal solution. Or, if you prefer your kitchen separated from the living area by a wall, you may want to consider a galley kitchen. The good news is, with so many kitchen designs available, there is one that will suit the needs and preferences of any family. K. Hovnanian Homes builds new home communities across the nation and offers a wide variety of home designs, including a variety of kitchen styles. Find a K. Hovnanian community in your state by visiting khov.com.
Last Updated on February 3, 2022