One often-overlooked aspect of the home-buying process is reading floor plans. Photos and video tours of houses can convey the look of a home, but to understand important practical details like how to lay out spaces, where and how much furniture you can fit in every room, and whether or not you'll actually be getting those north-facing windows you were hoping for, you'll need to be able to read a floor plan.
But how do you read a floor plan, and what things should you look for when reading one? Whether you feel like you've mastered the skill or feel completely intimidated by the technical drawings, our easy-to-follow, practical tips will improve your comprehension and make sure you know how to read floor plans with 100% accuracy.
What is a floor plan?
A floor plan is an outline or map of the house. It's a way to translate the math of a house (square footage, number of bedrooms/bathrooms, lot size) into visual references that are easier to comprehend.
Floor plans show the layout one floor at a time, so depending on the number of stories a single house has, its floor plans may take up two to three pages.
While some people may use the terms 'blueprints' and 'floor plans' interchangeably, these two types of documents serve different purposes. A floor plan is meant to give the buyer the basic details they would need to know when considering a property, while a blueprint includes much more intricate measurements and specifications that are most helpful to contractors and homebuilders.
Floor plans contain fundamental information like the locations of bedrooms, bathrooms, kitchens, as well as the placement of doors, stairs, and windows.
What do the symbols mean?
Floor plans are filled with tiny symbols and text to help you make sense of what you're looking at. These symbols may differ slightly from designer to designer, but here's a quick breakdown of the most common ones: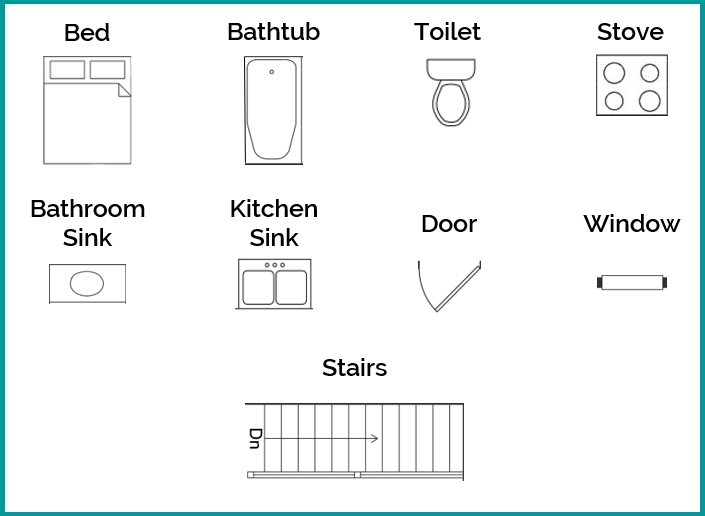 Paying close attention to the symbols helps you understand the intentional use of different spaces. For instance, a 10'x12' room may seem like a great choice for a bedroom, but if it has multiple windows on different walls, the could work better as a great room or living room, which benefits from more sunlight.
Some symbols may also be drawn in dotted lines. These simply mean they are potential places to put these items, but it's up to you to decide whether to include them or not. A spare room in the basement may work great as an guest bedroom if you need it, or it may be even more useful as a specialized storage unit.
Where to begin?
The easiest way to tackle reading a floor plan is to break it down into manageable pieces by mentally "walking" through the drawing. Look for the front door, usually at the bottom of the page, and try to picture yourself moving through the house starting there. What do you see when you walk inside? Do you pass by a bathroom right away? Is there a foyer for you to set down your bags and take off your shoes?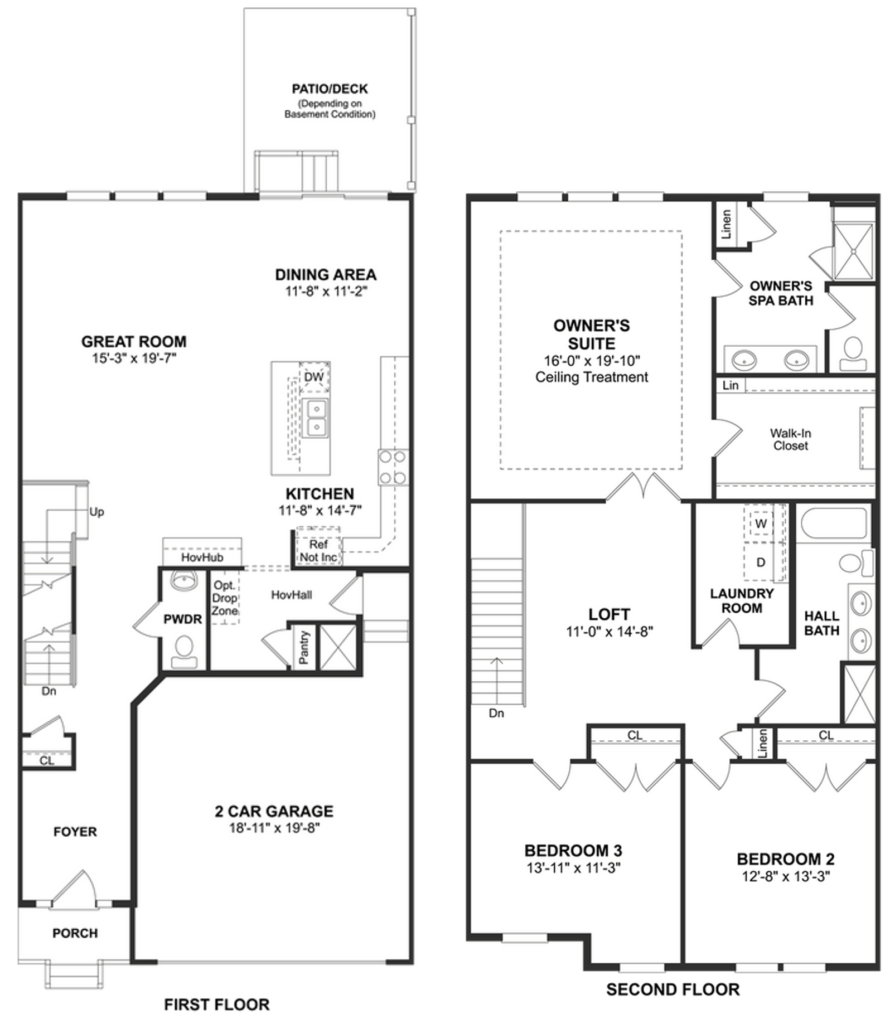 By imagining what you'll see as you go from room to room, you'll get a real sense of how it feels to be in the home and what the layout and flow are like. Try to pay close attention to every detail when walking through a floor plan so you can really help decide if the house's circulation pattern is right for you.
What is a floor plan legend?
At the bottom of the floor plan should be a legend that lays out some basic information. The legend should tell you what kind of building and which floor you're looking at, as well as the scale of the drawing. A common scale will say that every ¼ inch on the page equals 1 foot in real life, or every ⅛ inch equals 1 foot.
These measurements give you a clearer idea of how the total square footage of the property is displaced among all its rooms.
Legends may also show an arrow pointing to the top of the drawing to indicate that direction is north. This helps you tell which directions windows are facing and get an idea of the amount of sunlight in each room.
If you don't see an arrow, don't worry: floor plans are almost always drawn with the top of the drawing facing north.
What do the dashed lines mean?
Dashed lines can mean two things on a floor plan.
If you see dashed lines where an appliance, like a toilet, might go, or in a small section of a wall that might contain a window, the lines mean you have the option to include or exclude those features there.
If you see dashed lines running along the length of a wall or where a doorway would be, those lines indicate ceiling transitions. Ceiling transitions are spots where the height of the ceiling is raised, usually as an aesthetic feature.
You're ready to go!
With all the information here, you should be ready to read floor plans like an expert! Be sure to check out K Hovnanian's interactive floorplans included on every one of our home plan pages, where you can add and remove furniture and appliances, as well as see 360° video inside the home.
To learn more about our new homes and find a community near you, visit khov.com.
Last Updated on January 15, 2020