Looking for a place to truly call home, recently married couple Amit Shah and Aditya Madiraju went from renting a one-bedroom apartment in Jersey City to buying a beautiful new townhome in K. Hovnanian's Arbors at Monroe community in Monroe Township, New Jersey.
The newlyweds have been featured in a number of stories covering their beautiful wedding last month, but here, they go deeper into the importance of their new home and what it means to them.
"We saw a lot of townhouses before this one, and to me, this is the most luxurious in terms of space. It feels more open, like a real home. We love it," Amit said.
"There's a lot of space—but also privacy, which can be found in the different nooks and crannies of the house. The house is built with an open living concept. Everyone who's stopped by has been surprised that it's a townhouse," Aditya added.
Amit and Aditya chose to celebrate their pre-wedding mendhi party at their townhome at Arbors at Monroe — a beautiful and spacious space that encouraged everyone to mingle and relax.
"We call it mehndi, which is a henna party. It's usually a couple of days before the wedding," Amit explains, adding that the henna signifies how much the spouse-to-be loves you.
"It's a casual gathering with friends and family. They apply henna on the women and, in this case, on the men. And we just hang out!" said Amit.
Vogue India covered the happy couple's fairytale wedding. "We got married in a Hindu temple in New Jersey. It felt intimate, right and spiritual," said Amit.
Spending more time with family
Purchasing a new home can be daunting, especially when it can become a lifetime commitment much like getting married. Luckily, Amit and Aditya got a bit of help from their parents.
"We did the whole process together. It was our first house, so we needed our parents to support us and help us through it since we've never done this before," Amit said.
"Both of our parents had a lot of input, but in the end, it was Amit's and my call for what the house would look like. If he and I felt like the house isn't looking the way we wanted it to, we just scratched it off. It's our house, it's our baby!" said Aditya.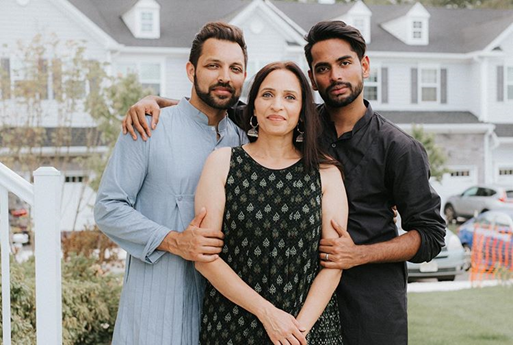 Owning a bigger home means Amit and Aditya get to spend more time with the people they love, namely their parents. "We spend a lot more time together because we have space. They are over a lot more, so that's all great," said Amit.
"Having a three-bedroom home really helps because Amit has 3 sisters and 20 cousins. I have multiple friends and family visiting from India. When people visit from India, they don't come for a week, they come for a month!" Aditya added, laughing.
"We need space to host them, the fully-furnished basement and the 3 bedrooms that we have really helps us make them comfortable. They want to come to our house because there's no space problem and there's privacy, everyone has their own bathroom," said Aditya.
And let's not forget about Adam, Amit and Aditya's adorable pet dog. "Our dog just loves being able to run around and have his own area of the house. Overall, it's a better living arrangement for all of us," said Amit.
Building lasting friendships
For Amit and Aditya, owning a home within a community like K. Hovnanian's Arbors at Monroe has allowed them to make new friends and connect with their neighbors. "It's great. We all see each other pretty much every day, there's quite a bit of interaction. People come over and play with our dog," Amit said.
Amit shares that he would regularly bump into his neighbors while taking walks around the community, especially when the weather was nice. "And now that we are friends, we invite each other over and things like that," he said.
Accepting others for who they are
Amit and Aditya shared that they felt both overwhelmed and thankful for the attention that their wedding had been getting from around the world. They didn't realize how much of an impact it would have on people who still struggle to feel accepted.
"We wanted to make sure that people feel like they have a right and a place, and for families to feel like it's not out of the norm anymore," Amit said.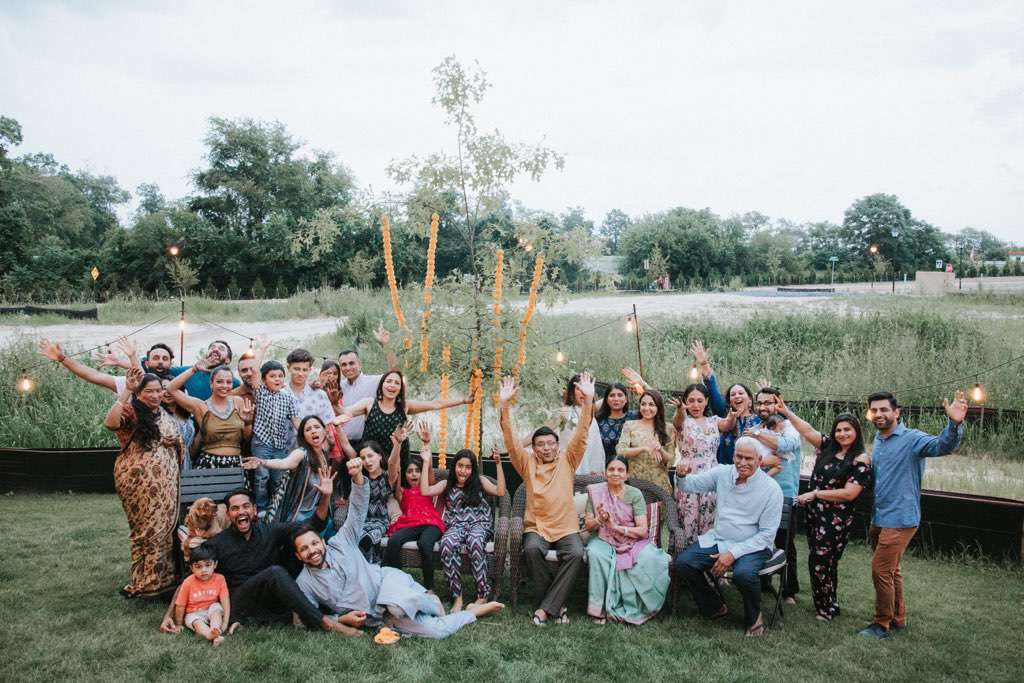 Customizing your dream home
K. Hovnanian homes allow homeowners to add features and upgrade your homes to design it the way you want it to look.
"We added additional features and add-ons constructed by K. Hovnanian. We pretty much upgraded the whole house. The way we customized it for our taste has been a really good project to see how we work as a couple," said Aditya.
"We painted the whole house in an unorthodox gray, usually when you paint the house you leave the moldings white, but we went ahead and painted the doors, windows, and molding the same color as the wall. This differentiates our house because we usually see stark, white moldings popping out of the painted walls," he said.
"It just gives a very different feel to the whole house. In our house you won't even notice the moldings, which looks luxurious," he said.
Living an easier lifestyle
As an entrepreneur who works from home, Amit has made use of the generous space and open layout of his new home. "I work from home—so having more space is definitely great when you're constantly home and on your computer," he said.
On top of owning a dance company, Amit plans on launching a fashion line later this year with Aditya. Of course, owning and running multiple businesses can make it difficult to prioritize spending time with family. But with the community's maintenance-free living, Amit and Aditya can spend more time with one another instead of working on property maintenance.
"We're not cutting our own grass, which we're not used to doing in the first place because we used to rent before. That's obviously more convenient for us," said Amit.
Hosting dinner parties
Upgrading from a rented apartment to your own home means a bigger living room that can easily host big parties.
"We're having the Thanksgiving dinner at our place. We're hosting about 12 folks because we have a really big living room, we can actually accommodate so many people," said Aditya, adding that he's making use of their backyard as well.
"Our neighbors are super nice, they usually let us know that we can use their backyard space as well. We can do indoor/outdoor Thanksgiving drinks into dinner into a late-night party," he said.
"We used to have Thanksgiving at Amit's parents' house, which is great by the way, but I think Amit's mom wants someone else to host for once!" Aditya said.
Owning your own home
Being a homeowner is much different from renting an apartment. "If I break something in the house, I don't have to hurry to get it fixed because I'm the homeowner!" said Aditya.
"I don't have to ask someone else's permission to put up an art piece or to paint a wall or anything else in the house. It's my own house and I have independence. Whoever comes to my house, I get to make the suggestions under this roof, which is very empowering to think of," he said.
When asked for advice for new homeowners, Aditya strongly suggests buying a home sooner than later. "The sooner you do it, the better it is, and the more money you'll save," said Aditya.
To learn more about Arbors at Monroe or any of our other new home communities, visit khov.com today.
Last Updated on October 29, 2019