If you're looking to buy a new home, then you should know about the HovHub, a special feature of many K. Hovnanian homes. The HovHub is a desk area situated near the kitchen, great room, or dining area and offers a place to work for those who don't always need a full home office. Instead of using your kitchen, couch, or dining room table to catch up on emails and pay bills, you can pull up a chair at your HovHub for excellent lighting and a tidy workspace. The HovHub is also an excellent area for your kids to do homework or get creative.
The Top 5 Benefits of a HovHub
1. Create a Designated Workspace
Nobody enjoys doing their taxes, but the process is much easier when you have a designated workspace. Maybe you don't need a full home office but do need a place to sort through mail, check emails, pay bills, or something more exciting like planning your next vacation. The HovHub features smooth quartz, granite, or marble countertops, ample cabinet space for extra storage, and room for file drawers so you can easily organize important documents and paperwork. No need to use your bed as a desk or let your mail pile up on the dining room table! The HovHub helps you stay on top of day-to-day tasks in a comfortable, beautifully designed space.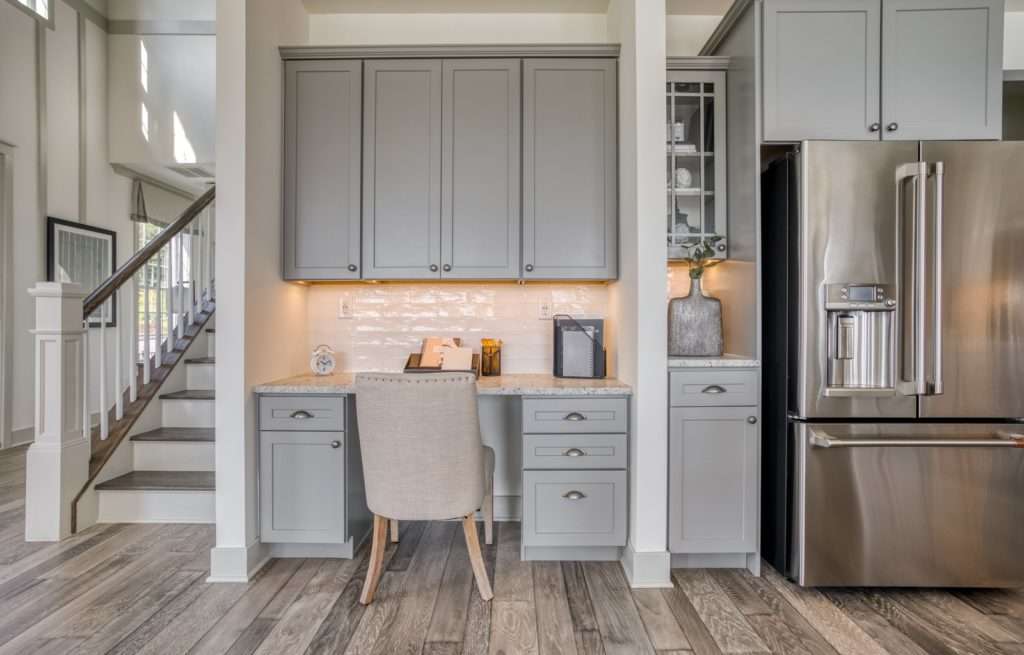 2. Work or Play Space for Kids
Sometimes your kids need a designated workspace, too, whether you have a five-year old or a college student. Especially nowadays when lots of families are working from home, the HovHub is an excellent space for your child to set up a computer for online learning or to get homework done. It's important that kids have a workspace outside the bedroom so they can separate school life from home life and get an easier night's sleep. The HovHub can also be used for playful activities like arts and crafts or coloring. Best of all, its open design allows parents to keep an eye on younger children while cooking, cleaning, or making a phone call.
3. Open and Integrated Design
HovHubs are thoughtfully incorporated into home designs so you can keep an eye on the kitchen or dining area while you work. Whether they are L-shaped rooms or an extension of the kitchen area, HovHubs allow maximum visibility of adjacent rooms with large, window-shaped wall openings and door-less entrances. This way, you can have a pot of soup on the stove or a sheet of cookies in the oven and comfortably step away to write an email or make a call without losing sight of the kitchen. The HovHub wall openings also help keep your home feel bright and open, so that one room visually flows into the next.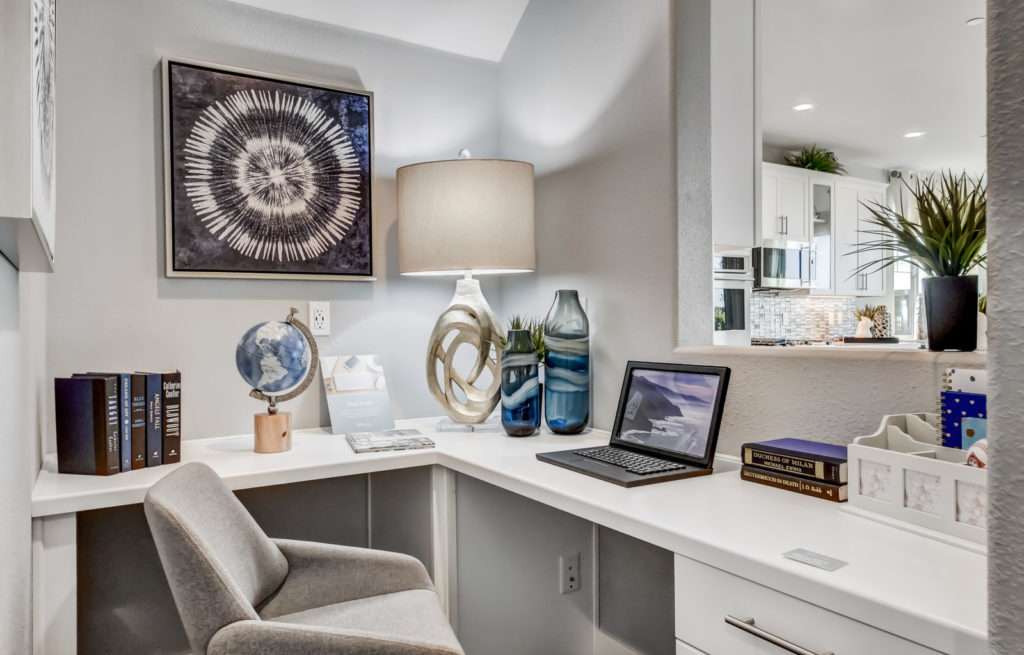 4. Store and Charge Technology
Though HovHub layouts vary by community and home design, each one features USB outlets just above the desk surface for maximum convenience. Keep your computer plugged in while you work to keep it charged, or store it in the HovHub overnight. The HovHub is also a great place to charge your phone while you're cooking in the kitchen so you can keep it safely away from food and liquid. If you're trying to use technology less, the HovHub is a perfect storage solution to keep devices out of sight and out of mind while you're enjoying a meal with your family, reading a book, or sleeping.
5. Easily Work From Home
Though many people are used to working in an office away from home, it's important to have an office setup for the times when you do need to work from home. If you don't have a full home office, the HovHub is an excellent place to set up a computer and spread out your paperwork. Or, if you do have a home office but also have more than one person working from home full-time, the HovHub offers a second workspace – an ideal solution for couples. Working on a soft surface like a bed or couch can be distractingly comfortable and might make you want to watch TV or take a nap (we've been there). The HovHub offers a hard desk surface with bright lighting and ample storage space to organize your work materials.
When choosing your K. Hovnanian Home, consider a home design that includes this functional, sophisticated feature.
To learn more about our new home communities and which of our designs offer HovHubs, visit khov.com.
Last Updated on May 3, 2021